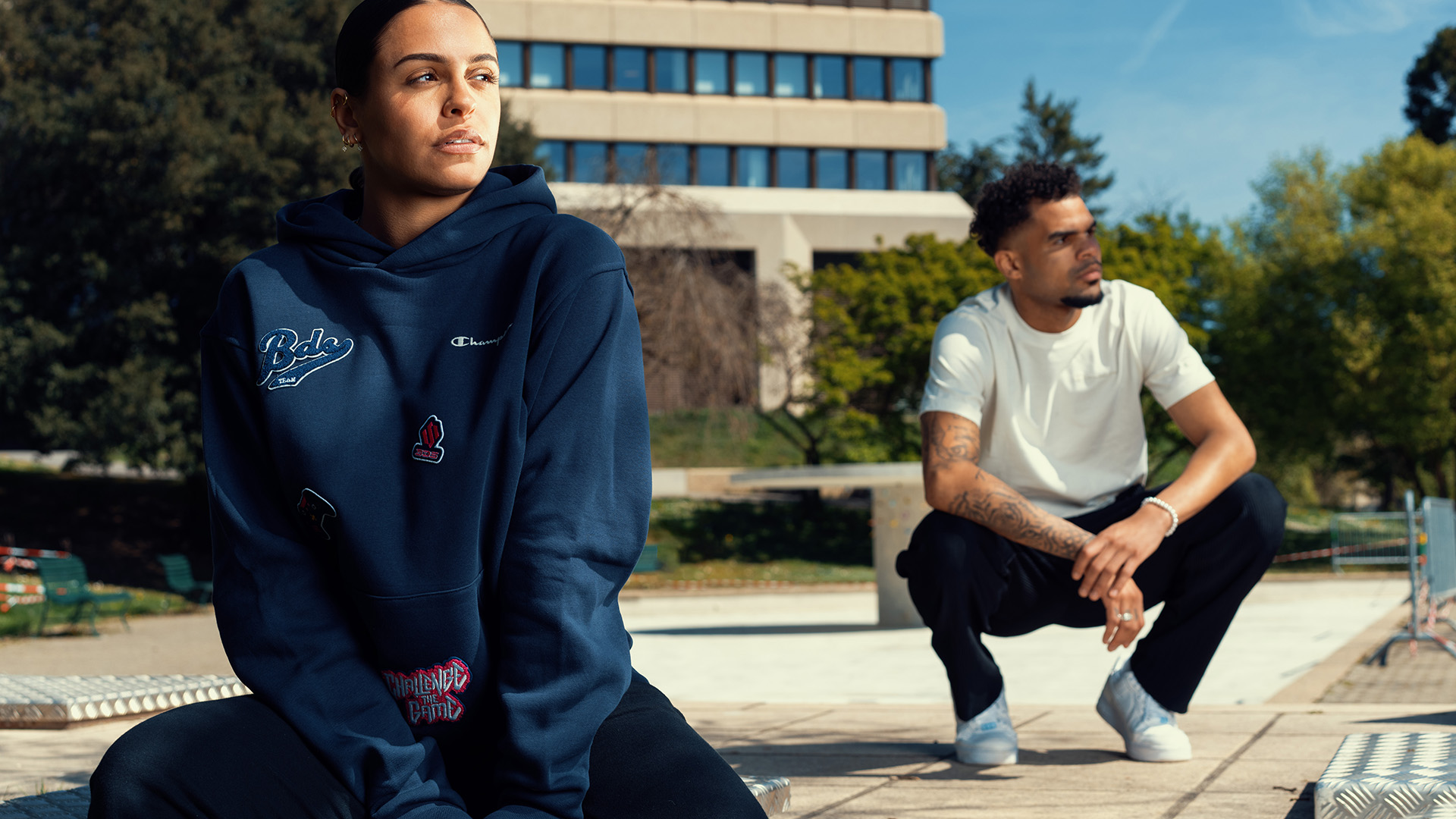 CHAMPION x TEAM BDS: AN EXCLUSIVE AND CUSTOMIZABLE COLLECTION
GENEVA, May 11, 2023 - Team BDS and sportswear brand Champion have joined forces to create an exclusive limited-edition capsule collection consisting of two t-shirts and one sweatshirt. Following numerous collaborations in the sports world with basketball, NFL, and even football teams, Team BDS is now offering an exclusive collection in the world of esports in partnership with Champion. This partnership between Team BDS and the more than 100-year-old clothing brand elegantly demonstrates the importance of sports apparel in the rapidly expanding esports sector.
AN ELEGANT AND CUSTOMIZABLE ALLIANCE WITH LOW ENVIRONMENTAL IMPACT.
Team BDS is an organization with numerous world titles and was recently crowned World Champion in Rocket League. It is their excellence in their respective fields that gave rise to this exclusive drop between Team BDS and Champion. This unisex collection is unique thanks to its various patches that allow each person to customize their sweatshirt to their liking. The possibilities are endless, and the imagination of esports fans or sportswear lovers knows no bounds. The sweatshirt is accompanied by two t-shirts in streamlined colors: one navy blue and the other off-white, which can be mixed and matched. These products convey Champion's signature style DNA, revisited through colors and finishes.
Moreover, this collection is part of a strong sustainability initiative thought by Champion for several years. The American brand is aware of its environmental impact and has offered a 100% sustainable range called "Eco Future" since 2021. The clothes in this range have a reduced impact on the environment thanks to organic materials, recycled textiles, and eco-friendly packaging. All the materials used meet globally recognized OECOTEX and GOTS certifications. This initiative shows the progress the brand is making towards a more responsible and positive fashion industry for our planet.
According to Jocelyn Roux, Managing Director of Team BDS, "Since 2019, Team BDS has never stopped performing and has established itself in just three years as a major global player in the esports scene. Today, with our Rocket League World Champion title, our goal is to continue to grow and establish our image by multiplying sporting victories and collaborations. After creating a personalized pen with Montblanc, chocolate tablets with Villars, and a collaboration with Bombers Original®, this capsule collection with Champion is a source of pride for us. It is important for us to partner with brands that share our values and have both national and international influence."
The exclusive Champion and Team BDS collection is already
available on the Team BDS website https://shop.teambds.gg.